Sounds of 2014 von Harry Lachner ... In absichtsvoll wahlloser Ordnung ....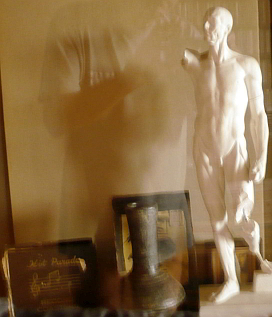 'Selbst in beschädigter Form' (c) Harry Lachner 1. Pere Ubu Carnival of Souls
2. The Nels Cline Singers Macroscope
3. Melvins Hold It In
4. Wadada Leo Smith Red Hill
5. Xiu Xiu Angel Guts: Red Classroom
6. Ø (Mika Vainio) Konstellaatio
7. Swans To Be Kind
8. Marc Ribot Trio Live at the Village Vanguard
9. The Young Mothers A Mothers Work Is Never Done
10. Nazoranai The Most Painful Time...
11. Phantom Orchard Ensemble Through the Looking-Glass
12. Matthew Shipp I've Been To Many Places
13. Happy Family Minimal Gods
14. Edward Ka-Spel & Philippe Petit Are You Receiving Us, Planet Earth?!
15. Pharmakon Bestial Burden
16. Brandon Ross For Living Lovers
17. John Zorn Valentine's Day
18. Zu + Eugene S. Robinson The Left Hand Path
19. Elliott Sharp 4 a.m. Always
20. Aram Bajakian There Were Flowers Also in Hell
21. Tētēma Geocidal
22. Thurston Moore The Best Day
23. Gazelle Twin Unflesh
24. Mike Cooper & Chris Abrahams Trace
25. Zion 80 Adramelech: Book of Angels 22
26. Sunn O))) & Ulver Terrestrials

'Hausgeist Loplop' (c) Harry Lachner